Current Exhibitions
Instants: Linda Lindroth's Polaroid Portraits
On view December 7, 2022 through June 10, 2023
Throughout her career, New Haven artist Linda Lindroth has worked predominantly in mixed media with a special emphasis on photography. In the 1980s and 1990s, as a participant in the Polaroid Artists Support Program, she had the opportunity to photograph a number of New Haveners with the Polaroid 20 x 24 camera, a highly specialized camera. Hailing from the worlds of visual art, education, architecture, and theatrical performance, the portraits' subjects represent some of the defining characteristics of the city of New Haven.
Eight of these large-scale color portraits are featured in this exhibit; four have been given by the artist to the Museum for its permanent collection. The Museum has paired each portrait with an analogous work in its online collections catalog, which visitors can access by QR code. Learn More
–
–
–
–
A post-industrial alternative history of a New Haven manufacturing icon, this new exhibit documents the underground history of the former New Haven Clock Company factory on Hamilton St. that survived urban renewal to house a variety of visual and performance artists, punk bands, skateboarders, and music and adult-entertainment clubs, such as the Brick N' Wood International Café and Kurt's 2, from the 1970s to the 2000s. Including original and archival video and photography and artifacts, the exhibit highlights some of the people, personalities and artistic endeavors once present in the building.
World-class industry, mimes, R&B, hardcore punk, avant garde local artists. If you ask around, practically everyone in New Haven knows a story about the old Clock Factory.
Signs of the Time 
On view in the Museum's upper rotunda, this exhibit features 19th– and 20th-century signs from Elm City businesses, selected from the permanent collection by Collections Manager Mary Christ. The assemblage will appeal to long-time residents and history buffs alike, prompting memories and eliciting comments on New Haven's storied past.
From Clocks to Lollipops: Made in New Haven
Ongoing
Elm City Pins Company Trade Card, circa 1876, lithograph on cardboard, Collection of New Haven Museum
From the Colonial era to the present day, New Haven has produced an astonishing variety of goods, including hardware, carriages, automobile parts and accessories, firearms, corsets, clocks, carpeting, rubber overshoes, clothing, musical instruments, silver-plated wares, candy, and more. Guest Curator Elizabeth Pratt Fox selected more than 100 objects, advertisements, trade cards, photographs and other items for this fascinating look at the production of consumer goods in New Haven over the past 300+ years. 
Form and Function: Decorative Arts from the Collection
Ongoing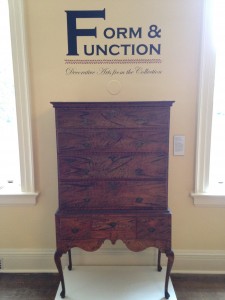 Form and Function: Decorative Arts from the Collection highlights a small selection from the renown collections of historic design and decorative arts at The New Haven Museum. Currently celebrating its 150th anniversary, the New Haven Museum has long been a repository for some of Connecticut's decorative arts treasures. If aficionados are familiar with the magnificent colonial furniture, silver, and paintings in the Museum's collection, its important holdings of nineteenth- and twentieth-century objects are less well known. In curating a new installation, guest curator Benjamin Colman wanted to create unexpected dialogues between objects made at different times in different media. Spanning from baroque-furniture to contemporary design, the pieces on view are arranged into four thematic groups: Politics, Childhood, Business, and Eclectic Homes. These objects were made with functional forms to serve a useful purpose. Yet in their exuberant designs and bold style, they also demonstrate the spirit of the individuals who created them, and the generations of people who used them.
Mr. Colman is Assistant Curator of the Florence Griswold Museum