Current Exhibitions
Martha Wilette Lewis, I SAW THE FIGURE FIVE IN BLACK (after Charles Demuth's I Saw the Figure Five in Gold inspired by a poem by William Carlos Williams), 2020
In this site-specific installation, Martha Willette Lewis has composed a delicate, floating pentagram – a magic circle – that responds to the entrance floor motif of the New Haven Historical Society. With magical associations that go back as far as ancient Babylonian and Greek society, the five-point star remains an important symbol to this day, especially for wiccans who use the pentagram to symbolize their faith. With five senses and five fingers on each hand, the artist connects the number 5 with her pentagram and to a history of magical connection. The artist has stated that this work is about "…the things – systems – that fly around us and protect us, mostly unbeknownst to us… The finger and sense part is important because while this is an abstraction and a diagram, I wanted to bring it back to the human aspect- our very real mortal frail selves and our power through our imagination and sense of time and reason to project into the future- to extrapolate aided by the use of our faculties and senses. This IS our power and our weakness." For Willette Lewis, the pentagram can also protect those of us who do not fit into mainstream society and culture, who feel bullied and different. It envelops us in a safe collectivity where we no longer feel ostracized.
Although conducted in the Hartford region, the pentagram here reminds us that the Connecticut Witch Trials in the mid-1600s occurred about thirty years before the more well-known Salem Witch Trials, and the first execution for witchcraft happened in Connecticut. (Today, the descendants still try to obtain pardon for the victims.) Willette Lewis transposes all the negative associations of the pentagram associated with the "devilish" practices of wiccans into an intricate symbol of independence and beauty.
Diagrams for this project can be viewed at http://marthalewis.com/category/installation/
Willette Lewis thanks Margaret Ann Tocharshewsky and Jason Bischoff-Wurstle for their support for and cooperation with this installation. She will be one of several artists in residence this spring in the ECOCA Collision Room project, when visitors can come to see her work on a 'zine for this project.
FACTORY
On view February 20 through Summer 2020

A post-industrial alternative history of a New Haven manufacturing icon, this new exhibit documents the underground history of the former New Haven Clock Company factory on Hamilton St. that survived urban renewal to house a variety of visual and performance artists, punk bands, skateboarders, and music and adult-entertainment clubs, such as the Brick N' Wood International Café and Kurt's 2, from the 1970s to the 2000s. Including original and archival video and photography and artifacts, the exhibit highlights some of the people, personalities and artistic endeavors once present in the building.
World-class industry, mimes, R&B, hardcore punk, avant garde local artists. If you ask around, practically everyone in New Haven knows a story about the old Clock Factory.

Signs of the Time 
On view through Winter 2020
On view in the Museum's upper rotunda, this exhibit features 19th– and 20th-century signs from Elm City businesses, selected from the permanent collection by Collections Manager Mary Christ. The assemblage will appeal to long-time residents and history buffs alike, prompting memories and eliciting comments on New Haven's storied past.
From Clocks to Lollipops: Made in New Haven
Ongoing
Elm City Pins Company Trade Card, circa 1876, lithograph on cardboard, Collection of New Haven Museum
From the Colonial era to the present day, New Haven has produced an astonishing variety of goods, including hardware, carriages, automobile parts and accessories, firearms, corsets, clocks, carpeting, rubber overshoes, clothing, musical instruments, silver-plated wares, candy, and more. Guest Curator Elizabeth Pratt Fox selected more than 100 objects, advertisements, trade cards, photographs and other items for this fascinating look at the production of consumer goods in New Haven over the past 300+ years. 
Form and Function: Decorative Arts from the Collection
Ongoing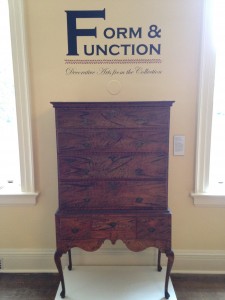 Form and Function: Decorative Arts from the Collection highlights a small selection from the renown collections of historic design and decorative arts at The New Haven Museum. Currently celebrating its 150th anniversary, the New Haven Museum has long been a repository for some of Connecticut's decorative arts treasures. If aficionados are familiar with the magnificent colonial furniture, silver, and paintings in the Museum's collection, its important holdings of nineteenth- and twentieth-century objects are less well known. In curating a new installation, guest curator Benjamin Colman wanted to create unexpected dialogues between objects made at different times in different media. Spanning from baroque-furniture to contemporary design, the pieces on view are arranged into four thematic groups: Politics, Childhood, Business, and Eclectic Homes. These objects were made with functional forms to serve a useful purpose. Yet in their exuberant designs and bold style, they also demonstrate the spirit of the individuals who created them, and the generations of people who used them.
Mr. Colman is Assistant Curator of the Florence Griswold Museum