Current Exhibitions
Robert R. Wiseman, Artist Etcher 
On view September 8 through Fall 2019
"Robert R. Wiseman, Artist Etcher" is a small-scale but noteworthy exhibit featuring the etchings and paintings of this little known New Haven artist from the museum collection, as well as some of the primary sources available those interested in learning about an artist, or any person from the past. 

Signs of the Time 
On view through Fall 2019
On view in the Museum's upper rotunda, this exhibit features 19th– and 20th-century signs from Elm City businesses, selected from the permanent collection by Collections Manager Mary Christ. The assemblage will appeal to long-time residents and history buffs alike, prompting memories and eliciting comments on New Haven's storied past.
Gilbert Jerome: New Haven's WWI Aviator 
On view June 14, 2018 through Fall 2019
Capturing the brief, enthusiastic embrace of life by New Haven native and Boy Scout Executive Lt. Gilbert Jerome, the exhibition offers a bittersweet glimpse of WWI through the eyes of an artistic soul enchanted by the wonder and excitement of aviation, and the tender regard with which he held his family. Guest curated by Deborah G. Rossi, the show includes excerpts from Jerome's diary and the charming letters, sketches, and tiny watercolors he sent home from "in the field."
About the Connecticut Yankee Council, Boy Scouts of America
The Connecticut Yankee Council is the local council of the Boy Scouts of America, the nation's foremost youth program of character development and values-based leadership training, which helps young people be "Prepared. For Life.®" The Connecticut Yankee Council is composed of nearly 10,000 youth members between the ages of 7 and 21, and approximately 2,300 volunteers in Southwestern Connecticut. For more information on the Connecticut Yankee Council visit www.ctyankee.org or www.scouting.org.
From Clocks to Lollipops: Made in New Haven
Ongoing
Elm City Pins Company Trade Card, circa 1876, lithograph on cardboard, Collection of New Haven Museum
From the Colonial era to the present day, New Haven has produced an astonishing variety of goods, including hardware, carriages, automobile parts and accessories, firearms, corsets, clocks, carpeting, rubber overshoes, clothing, musical instruments, silver-plated wares, candy, and more. Guest Curator Elizabeth Pratt Fox selected more than 100 objects, advertisements, trade cards, photographs and other items for this fascinating look at the production of consumer goods in New Haven over the past 300+ years. 
Form and Function: Decorative Arts from the Collection
Ongoing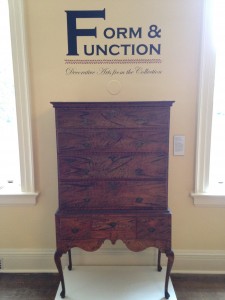 Form and Function: Decorative Arts from the Collection highlights a small selection from the renown collections of historic design and decorative arts at The New Haven Museum. Currently celebrating its 150th anniversary, the New Haven Museum has long been a repository for some of Connecticut's decorative arts treasures. If aficionados are familiar with the magnificent colonial furniture, silver, and paintings in the Museum's collection, its important holdings of nineteenth- and twentieth-century objects are less well known. In curating a new installation, guest curator Benjamin Colman wanted to create unexpected dialogues between objects made at different times in different media. Spanning from baroque-furniture to contemporary design, the pieces on view are arranged into four thematic groups: Politics, Childhood, Business, and Eclectic Homes. These objects were made with functional forms to serve a useful purpose. Yet in their exuberant designs and bold style, they also demonstrate the spirit of the individuals who created them, and the generations of people who used them.
Mr. Colman is Assistant Curator of the Florence Griswold Museum