Collections
There is always something to see at NHM! The museum consists of four on-going exhibition galleries devoted to topics in New Haven history and  temporary galleries that display specially themed exhibitions. There is also artwork and decorative arts displayed throughout the public areas of the building and occasional rotating mini-exhibitions in our first floor rotunda.
Museum Exhibitions
Permanent and special exhibitions present a panorama of New Haven's past, drawing on the Museum's collections of:
Fine Arts – paintings, including landscapes by local artists and portraits from the 18th and 19thcenturies; watercolors, prints and drawings.
Decorative Arts – regional furniture from the 17th through the 19th centuries, pewter, silver, clocks, textiles, glass, and ceramics.
Maritime History – images and objects relating to New Haven's coastal, West Indies, and international trade, oyster industry, and shipbuilding.
Technology and Manufacturing – includes an original model and full-size working version of Eli Whitney's cotton gin, an early milling machine from the Whitney Armory, one of the first Morse code receivers, and a reconstruction of the first telephone switchboard.
Permanent Exhibitions
The New Haven Gallery: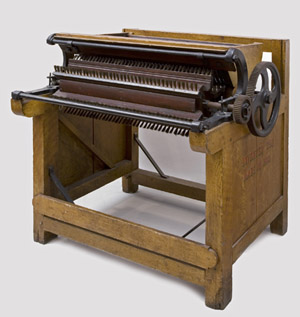 This exhibition is the place to start for those seeking a general introduction to this history of this area. It documents the history of New Haven from a Puritan Colony in the 17th century, to a modern industrial City in the 20th. Art, furniture, industrial machines, and other material show the changes brought about by the passing of time. Benedict Arnold's shop sign, Eli Whitney's cotton gin, A.C. Gilbert's erector set, and 19th century fire department equipment are all included. 
The Ingersoll Room :
The Ingersolls were a prominent loyalist family during the American Revolution, but returned to New Haven to re-establish themselves in the business and political life of this City. The items in this room come from the Ingersoll House at the corner of Elm and Temple Streets. The set of furniture is held to be one of the finest examples from the Federalist era. 
The Amistad Gallery :

The subtitle of this exhibition: "Cinque lives here" tells the story. In this room are found the most significant collection of material from the Amistad affair. The portrait of Cinque and the painting of the ship, a letter from Kale, one of the captives, and a letter from John Quincy Adams to the captives, allow the visitor to see the actual items of that day. The portrait of Cinque by New Haven painter Nathaniel Jocelyn is generally understood to be the first and one of the finest portrayals of an African in American art. 
The Clement Room : 
Paintings and furniture are both featured in this collection of various treasures. 
The Maritime Gallery :
From the very beginning of the Colony in the 17th century, New Haven has had a close tie to the sea. Especially prominent in terms of trade were voyages to the West Indies, although New Haven tried to join in the prosperity of the China Trade by sending the ship "Neptune" to Canton in the 1790's. Oystering predated the English settlement and has remained important to New Haven economy ever since. Steamships replaced sailing vessels and some in New Haven still remember the "Richard Peck."