Online Collection Catalog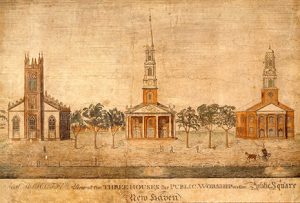 The New Haven Museum collection consists of objects (art, artifacts, and graphics), photographic materials, manuscript collections and published works that document the people, places, and events that have shaped and continue to shape the Elm City. There are an estimated 12,000 objects, 100,000 photographic items, 400 manuscript collections, 30,000 published works in the New Haven Museum collection.
The Museum is in the midst of a multi-year project to inventory object collection (the last thorough inventory was done in 1907!) and to make that collection available to the public through the online catalog. At this time, approximately one-third of the object collection is available through the online catalog.
Finding Aids from the 300-plus manuscript collections of the Whitney Library are also available through the online catalog, accompanied by selected digitized images from individual manuscript collections.
In addition, we are systematically migrating our Photographic Archive into the online catalog.
We are regularly adding to the online catalog. Catalog records reflect historic documentation of the collection and do not necessarily include the complete information known to the New Haven Museum. The review and updating of records is ongoing. Be sure to check back for updates.
Questions? collections@newhavenmuseum.org
Images from the online catalog are intended for research purposes only. Images may be subject to copyright restrictions.
Requests for reproducing images from the New Haven Museum collection intended for publication, exhibition or public projects must be submitted to the New Haven Museum in advance of use. Purchase of photographic material from the museum does not constitute authorization to publish or reproduce it. Allow 4 weeks to process all orders. To request an image for publication, please contact: photos@newhavenmuseum.org