Arnold College
September 11, 2020
In September 1904, The New Haven Normal School of Gymnastics celebrated its 19th year of operation. Founded in 1885, the school was one of the nation's first colleges dedicated to the growing practices of physical education, later becoming known as Arnold College.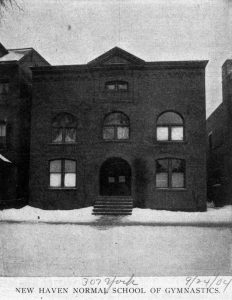 In the late 1880s, normal schools were established in Connecticut for the training of public school teachers. The New Haven Normal School for Gymnastics in fact predated the founding of the state normal school that would eventually become Southern Connecticut State University by 8 years.
The college was small but dedicated to the best practices of physical knowledge, hygiene and teaching. The term "gymnastics" was not just strictly applied to the sport as we know it today but rather the overall curriculum based on the gymnasiums of Germany, Sweden and Great Britain. American physical education first integrated these practices with public education in Northampton, Massachusetts and Hartford, Connecticut in the early 19th century.
The New Haven school's first home was located in Brooklyn, New York. Dr. William Gilbert Anderson was a pioneer in the fields of physical education and medicine. He and his partner opened the Anderson School of Gymnastics, which ran for two years before Anderson accepted a position at Yale. Anderson moved the school with him becoming the New Haven School for Gymnastics. The school was based in a large brick building dubbed the Anderson Gymnasium, located at 307 York St.
In 1895, Dr. E. Herman Arnold and Miss Bertha Ives took over the operations of the college, and the curriculum continued to expand, offering courses at the State Normal School and Hillhouse High School. In 1917, the college moved to a full campus complete with training facilities, dining halls, an infirmary and five dormitories at the corner of Chapel St. and Sherman Ave. In 1921, the school was formally renamed Arnold College. During this time Arnold College opened its gates to become the first co-educational physical education school in the United States.
In 1939, St. Raphael's Hospital purchased the campus to expand its own facilities. The college briefly moved to 41 Dwight St. with plans to construct a large campus in Woodbridge. Ultimately the school ended up in Pond Point, Milford, overlooking Long Island Sound. The school's strict enforcement of daily grooming (no beards, showered and always clean uniforms) and adherence to coursework produced three NFL Hall of Famers, and a legacy of premier public school physical education instruction and coaching throughout New England. Arnold College came to a close as an independent college in 1953 when it was absorbed by the University of Bridgeport.
Jason Bischoff-Wurstle
Director of Photo Archives, New Haven Museum