Chapel Street, College to Temple Through the Years
August 7, 2020
With the recent closing of the original Ann Taylor store on Chapel St., we're going to look at highlights of history on the block between Temple and College Streets. It's a block as old as New Haven itself with more than a few surprises throughout the years.
In 1638 the New Haven Colony was founded and the Nine Squares were first laid out. This section of Chapel St. facing the central marketplace or as we call it the New Haven Green, was split up and manor homes were built. The block would remain fairly residential until the late 19th century. In 1650, the deputy colonial governor Stephen Goodyear first built his home on the corner of College and Chapel. This house was added on and altered, later existing as the Captain John Miles Tavern, the Washington Tavern, and the Beers Tavern and bookstore, which in the years preceding the public libraries was the intellectual center of New Haven outside of Yale.
The public house was one where the expression "George Washington slept here" can truly be applied. The Continental Army general and later first American President stayed the night during the American Revolution while passing through Connecticut. The tavern was later named for this event.
Another story of note during the Revolution was of the time the tavern had to entertain a group of British soldiers during their brief invasion of New Haven in 1779. Having not really cared for the tavern's ale, 2 troops came across a jar of fermenting vinegar in the backyard. They were delighted to find this and guzzled it down leaving the proprietors to realize the troops were Hessian mercenaries with a taste for German sour wine.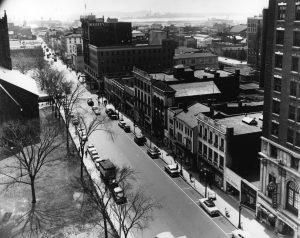 The block between College and Temple was the first home of the Quinnipiac Club, and Knights of Columbus' first headquarters that they designed and built for themselves before moving to their current location. The first edition of Webster's Dictionary, which normalized American English, was proofed and published on this block. Webster would often meet and speak with local intellectuals and luminaries at Beer's Tavern and bookstore.
In 1851, the 200 year-old tavern on the corner was torn down and Augustus Street built the prestigious New Haven House hotel.  When he died he gave the hotel and Street Hall, the original wing of the Yale University Art Gallery, to Yale. In 1867, Seth H. Moseley bought the hotel and rechristened it Moseley's New Haven House. In 1909, his family sold the building and it was demolished in 1910 making way for the state of the art Hotel Taft, which opened in 1912.
In 1954, the first Ann Taylor store opened on Chapel St.. Richard Liebeskind founded the company basing the name on the identity of a properly tailored very New England, professional woman, the target audience for the store. The original store closed its doors permanently on July 26, 2020.
Jason Bischoff-Wurstle
Director of Photo Archives, New Haven Museum