Loomis Temple of Music and Journal
MAY 7, 2021
New Haven is home to many American "firsts." A visionary first of the 19th century was Loomis' Musical Journal. Beginning in 1877, the publication was the first mass-produced subscription music journal that featured regular updates on local music events and personalities of the time, brand new instruments, original songs and sheet music, and later women's fashion and support for progressive social causes. It was a 1800s precursor of sorts to 20th century magazines like "Rolling Stone," and was hyper-local and national in its coverage of American popular music. The journal was published out of New Haven's premier music superstore of the era, the Loomis Temple of Music.
The Loomis Temple of Music was founded in 1865 at the end of the Civil War by Clark Merrick Loomis. Loomis had served in the 6th Connecticut Regiment and had previously worked as a carriage maker. After experiencing the war he returned to New Haven to chase his own ambitions. Despite not being a trained musician, he loved music and sought to spread his joy and enjoyment to others by running a downtown music emporium. The store, which he bought from C.E. Dudley, aimed to be a place where people of all means were able to purchase musical instruments and learn to play, in a sense democratizing the increasingly popular European and American classical and folk art forms.
Traveling in the war he had been exposed to traditionally regional songs based around banjo, guitars, pianos and violins. These were often lesser known folk and work songs sung and played on plantations, farms, local churches and taverns throughout the country. After the Civil War, through the 19th and early 20th century and predominately prior to the rise of commercial recorded music, the Loomis Journal and others were the source of sheet music that people could learn and play at home. These were the roots of today's massive popular music publishing business. During that time music agents would go town to town and document the traditional songs, claiming ownership often for little or no compensation. These predatory practices have continued through each era of popular music since, albeit in different forms. It should be said however that Loomis in his time was highly regarded as an innovator and fair businessman that opened the doors to the vast world of music by selling very affordable high end instruments that normally would be out of reach to all but the upper class.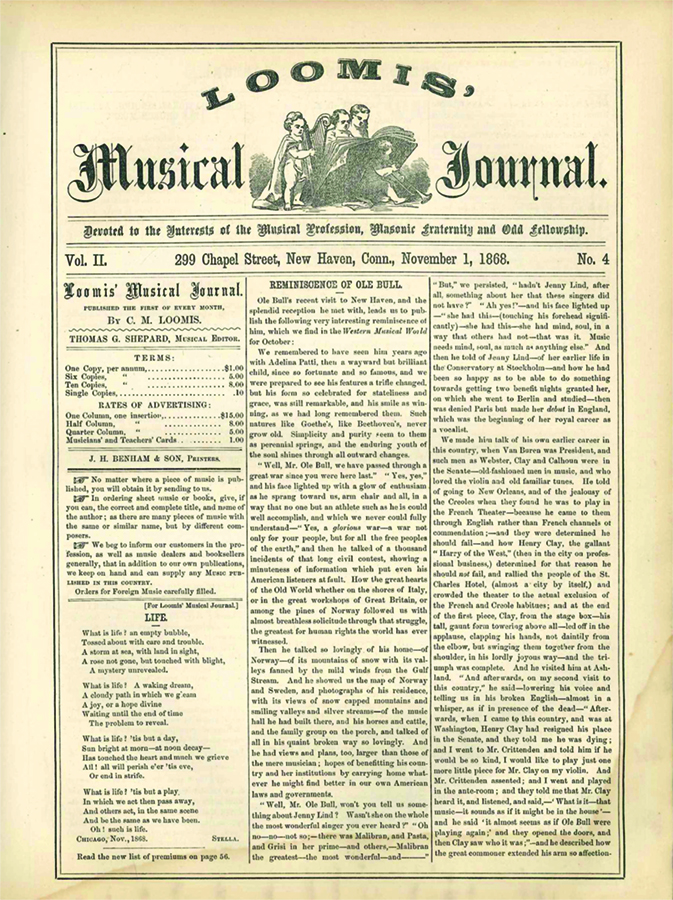 The Loomis Temple of Music was first located at 233 Chapel Street before moving in 1869 to the corner of Orange and Center Streets (today home to Pho Thai restaurant.) In 1889, the Temple moved to an even larger location, a new building located at 833 Chapel Street. They carried and prominently displayed with the help of early electrical lighting, a vast array of pianos and string instruments, along with the largest sheet music collection in the country and their very own moving and delivery service.
A year later in 1890, Loomis passed away. His sons continued to run the business at 833 Chapel through the 1930s. The journal expanded to cover and advertise not only music, but women's fashion and continued to document the social movements of women's suffrage and temperance. The Temple became one of the earliest official Victrola retailers in the United States, shifting towards the sale of early vinyl records and players. The journal came to an end in 1919, and the store would close in the 1930s. The Temple building became better known as the English Building and today is home to EBM // CIVVIES VINTAGE (previously known as the English Building Market) since 2007.

Jason Bischoff-Wurstle
Director of Photo Archives