Southwest Ledge Lighthouse
April 10, 2020
Here in New Haven we're almost a month into self-isolation due to the coronavirus outbreak. Self-isolation clearly means a wide array of circumstances for the city's residents. Different living situations, different work situations, family and work lives combined. It's a lot. If you're feeling itchy here is a case of glass half full for perspective.
When we think of local lighthouses, Five Mile Point Light at Lighthouse Point Park is the first one that generally comes to mind. A New Haven visual icon in one of the city's best public areas, the lighthouse (the second on the location) dates back to 1847. Positioned five miles across the harbor from New Haven's downtown this building operated for only 30 years before being replaced by a new state of the art lighthouse in 1877.  Located in the harbor on the newly completed breakwater the Southwest Ledge Lighthouse was a necessary and precise beacon to navigating New Haven's notoriously shallow harbor.  The building is a 45-foot cast iron that is five stories tall, consisting of a lantern room, watch room and two stories of living quarters atop two cisterns that collected rainwater for use as drinking water.
Manning the lighthouse required living there for extended periods of time. Experienced light keepers were accustomed to being isolated and made do. Sometimes though the situation got the better of them…
In 1907, Jorgen Tonnesen was the head keeper of the lighthouse. His assistant was a man named Nils Nilson. Nilson was a knowledgeable and celebrated head keeper who had originally worked in Rhode Island until he was strangely demoted in untold circumstances and took the job of assistant in New Haven. The two men got on well enough in the cramped, damp, roach infested quarters surrounded by ocean. One night the situation turned. The sound of pounding monotonous waves and most likely a degree of poisoning from unseen molds pushed Nilson too far. After a minor argument Nilson grabbed an ax and chased Tonnesen through the structure. Terrified but unwilling to abandon his post, Tonnesen locked himself at the top of the lighthouse while Nilson hacked at the door with the ax! Eventually Nilson quieted down and left for the shore in a rowboat.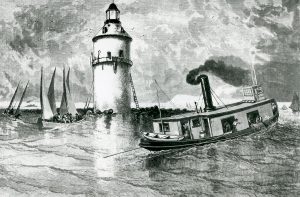 Nilson was welcomed back to the lighthouse as Tonnesen understood things could get hairy and treated it mostly as water under the lighthouse so to speak. He did however ask his brother-in-law Bernt Thorstensen to join them in the lighthouse as a second set of eyes. Sure enough Bernt ably earned his keep as a few weeks later Nilson snapped again and assaulted Tonnesen with a knife. Nilson was told to go to the port and seek help. Alas he was too far gone and perished by his own hand a few nights later on the old docks at the end of Hamilton Street.
Today the docks are gone and the old lighthouse in the harbor is decommissioned, no longer requiring the lonely watch of the keepers. All things pass and so soon this time we're in shall as well. Open a window, take a breath and enjoy Spring as it blossoms all around us.
Jason Bischoff-Wurstle
Director of Photo Archives, New Haven Museum