Pardee-Morris House
We are excited to welcome you back to the Pardee-Morris House this summer on Sundays, from 1 to 4 pm, beginning July 19.
Located at 325 Lighthouse Road in the Morris Cove neighborhood of New Haven.
All tours will take place outdoors on the lawn. 
No more than 5 guests will be permitted in the house at one time.
The Herb Garden is open.
Admission is free.
Taking Care During COVID-19
The New Haven Museum is following the Reopen Connecticut sector rules for Museums, Zoos & Aquariums as well as monitoring the CDC guidelines. Please help us to provide a safe and enjoyable experience for all by observing the following house rules and etiquette:
Please do not visit if you or a member of your party is sick. Visitors exhibiting symptoms of COVID-19 will not be permitted to enter the house and will be asked to leave the property.
If you are traveling from an affected state included in Connecticut's travel advisory and have not yet completed 14 days of quarantine, we will ask you to postpone your visit to the museum to a later date. For a complete and updated list of affected states, please visit:   https://portal.ct.gov/coronavirus/travel
Masks must be worn at all times and must completely cover nose and mouth.
Please sign our guest log and provide contact information and a zip code.
Hand sanitizer is available for your use.
Practice social distancing, staying 6 or more feet apart.
No more than 5 people will be permitted in the house at a time.
Please do not touch any objects in the house.
Please follow arrows on the floor for movement through the house.
Please do not bring food onto the site.
Please use garbage receptacles for your tissues, candy wrappers, and other trash.
Should you feel unwell during the course of your visit, please alert our staff.
 Please know that the Museum is cleaning and disinfecting commonly used surfaces regularly.
Pardee-Morris House
The historic Pardee-Morris House (PMH)—viewed as the "summer home" of the New Haven Museum—offers seasonal events: music ranging from jazz and blues to big band swing, neighborhood walks, and insightful presentations and workshops, almost all free of charge. PMH is also open for guided tours on Sundays during the summer season.
Listed on the State and National Register of Historic Places, the PMH was built around 1750 by Amos Morris. Burned by the British during their raid on New Haven in 1779, the house was rebuilt and expanded by the Morris family. In 1918, William S. Pardee, a Morris family descendant, bequeathed the property to the New Haven Colony Historical Society, today the New Haven Museum.
Colonial Herb Garden
Thanks to our neighbors, Rachel Heerema and Giulia Gouge, we have a colonial herb garden that demonstrates the herbs and plants that a colonial woman would have used for cooking, medicine, household, and tea or aroma.
Explore the Garden!


Explore the Morris Cove area at these other historic sites: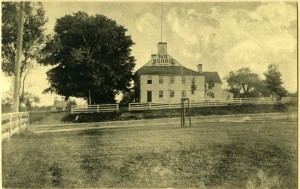 Directions to the Pardee-Morris House (325 Lighthouse Road New Haven, CT 06512)

From the west: On Interstate 95, take Exit 50 (Woodward Ave.). Continue straight to Townsend Ave. Turn right onto Townsend Ave. and continue for 2.2 miles. Turn right onto Lighthouse Rd., and continue for 0.4 miles. The Pardee-Morris House will be on your left.
From the east: On Interstate 95, take Exit 51. Continue straight onto Forbes Ave. Turn left at Townsend Ave. and continue for 2.2 miles. Turn right onto Lighthouse Rd., and continue for 0.4 miles. The Pardee-Morris House will be on your left.
*Please Note: When visiting the Pardee-Morris House, please park along Lighthouse Road. Note that there are streets in the neighborhood that are resident permit-parking only.
Public Transportation
Use the CTTransit New Haven G2 Bus Route.